Often with Instructional Design, there is a need to be able to estimate how long it will take to do audio recordings, YouTube videos, Adobe Captivate simulations, and other projects related to training and education. Some people think a training simulation with audio and interactive graphics can be done in a few days' time. It helps if you can cite a source to back up your estimate.
I tend to use Adobe Captivate, and a good site for getting time estimates is "The Logical Blog" by IconLogic. http://iconlogic.blogs.com/weblog/2013/03/adobe-captivate-techsmith-camtasia-studio-articulate-storyline-production-times.html (Siegel, 2013).
I did one instructional video using Adobe Captivate, Premier and After Effects that took almost 3 weeks. Based on the times from The Logical Blog, it should have taken me 40-80 hours to write the script, plus another 40 hours for the audio, plus an additional 16 hours production. Two and a half to three and a half weeks was what I did so this sites numbers reflect my current reality (Siegel, 2013).
Using Bryan Chapman's numbers from http://www.chapmanalliance.com/howlong/ (2010), I should have been able to do it in between 66 and 95 hours so his estimates seem a little low to me (my video project fell in between the two estimates). One thing I like from this site is the breakdown of percentages in slide 18 of the slideshow. (Chapman, 2010)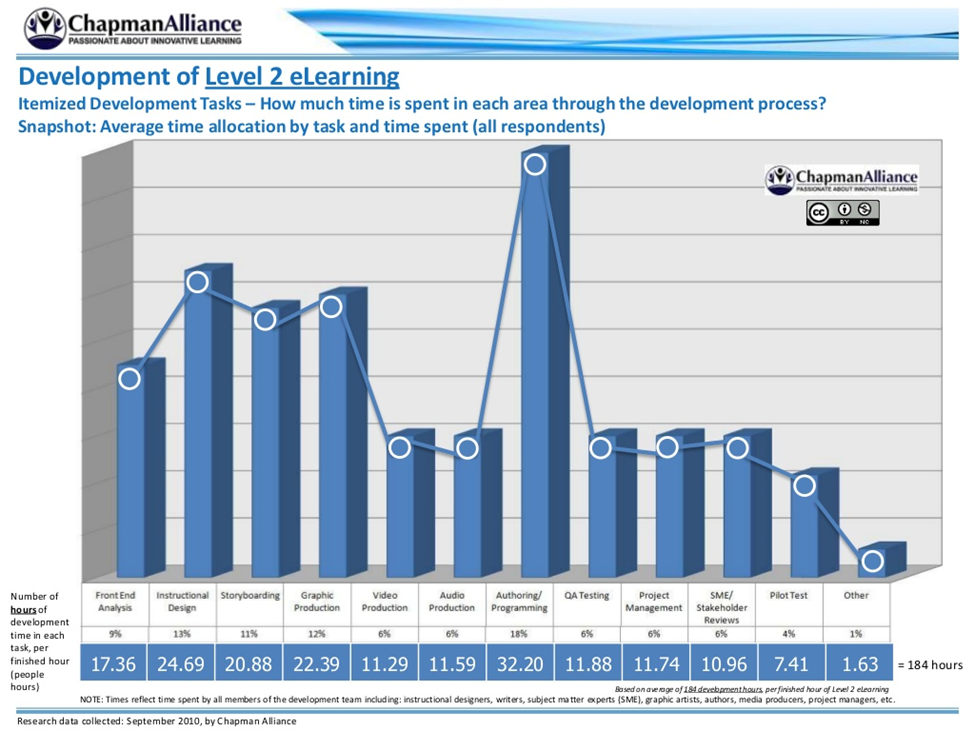 Front End Analysis: 9%
Instructional Design: 13%
Storyboarding: 11%
Graphic Production: 12%
Video Production: 6%
Audio Production: 6%
Authoring/Programming: 18%
QA Testing: 6%
Project Management: 6%
SME/Stakeholder Reviews: 6%
Pilot Test: 4%
Other: 1%
References
Chapman, B. (2010). How Long Does it Take to Create Learning? Retrieved from http://www.chapmanalliance.com/howlong/
Siegel, K. (2013). Adobe Captivate, TechSmith Camtasia Studio, Articulate Storyline: Production Times. Retrieved from http://iconlogic.blogs.com/weblog/2013/03/adobe-captivate-techsmith-camtasia-studio-articulate-storyline-production-times.html